June 1-4, 2021 Break Classes
Drop In Lessons will be held from 5:00-6:30 for Intermediate and Advanced students.
Special Workshop Event with Valery Lantratov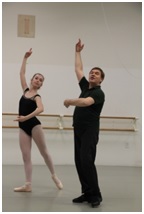 June 7-11, 2021 | Monday through Friday
AGES: 11 or older
TIME: Lessons arranged between 4:30pm and 8:30pm
COST: $200.00
Five days of classical ballet lessons with two extra lessons included with pointework, variation or character with renowned teacher. Don't miss this opportunity! Must be training in 3-4 ballet lessons per week at Emerald through Magenta levels. Workshop class placement will be organized by levels between 4:30pm-8:30 pm.
Education in Professional Development for teachers is offered so that Infinity Ballet teachers continue to grow and develop as well as showing the students that personal growth is a life-long process.