Infinity Ballet is thankful for the generous support of:
Infinity Ballet Fall 2016 Performances:
Infinity Ballet Conservatory Studio Showing
Saturday, June 11th 3:30 pm (possible second showing as FIRST STEP PROGRAM)
Infinity Ballet 2016 Spring Spectacular Show 

Cary Arts Center
Saturday, June 18th, 2016    3:00 pm
"Toyshop and the Majestic Mascarade"
This year's theme includes favorite excerpts from the well loved ballet "Coppelia", original works to popular music of the 60s and a fun-filled ballet set at a Mascarade performed by dance students of Infinity Ballet.
Tickets Sales are available at
Etix.com
 or at the Box Office.
Cary Arts Center Box Office 122 E. Chatham St
Cary, NC 27511
Hours: Tues-Fri: 11:00 am -6:00 pm and Sat: 10:00 am -1:00 pm
Current 2016 Season Venues: 
Auditions for Company Membership and Spring Performing Opportunities held February 6, 2016, 3 pm at Infinity Ballet Studios. Call 919-303-1105
Infinity Ballet Fall 2015 Performances:
Saturday, Nov 7th 2015
2:00 pm and 4:00 pm Performances
Tickets $6.00 assigned seating
"Nutcracker Dances" and Land of the Sweets
Saturday, Dec 5th, 2015
3:00 pm
Perfect Family Fun!
Park early for the Apex Christmas Parade. Come inside and watch "Dances of the Nutcracker." Enjoy a cup of hot chocolate with a cookie and then head outside to watch the parade!
Sunday, Dec 6th, 2015
2:00 pm and 4:00 pm
Don't forget to get your picture taken by the Christmas trees!
Infinity Ballet Conservatory Studio Showings
NUTCRACKER DANCES
Saturday, Nov 21st, 2015

 

  4:00 pm and 5:15 pm
FIRST STEP PROGRAM
Saturday, December 19th, 2015
4:00 pm
Infinity Ballet Community Service Showings
danceSPARKS FESTIVAL
Downtown Raleigh
Saturday, Sept 19th, 2015

     11:00 am
Nutcracker Dances
Cambridge Village of Apex
Friday, Dec 11th, 2015

 

  7:00 pm
A Non-Profit Organization:

Infinity Ballet Theatre is a non-profit organization committed to building theatrical arts in the community by offering high quality dance instruction with performance opportunities for young dancers to express themselves and grow as artists.
Performance Opportunities and Auditions:
Infinity Ballet Theatre (IBT) is a separate non-profit business with 501c status and is the performing arm of Infinity Ballet's dance experience. IBT is responsible for raising the monies to support our performances within Infinity Ballet as well as out in the community. Dancers are offered opportunities several times a year to perform in the community in theater and festival events. Auditions for roles in these shows are held twice a year and are open to all dance students in the community that are currently training in a dance program.
Infinity Ballet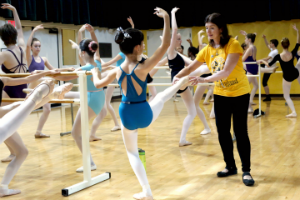 Theatre dancers perform seasonally in a variety of different locations and venues. Included in our performances are free showings for the public in our studio showcases. Annually a Spring Spectacular Show featuring both classical and contemporary dances is performed at the Cary Arts Center. IBT performs several times a year at the Halle Cultural Arts Center of Apex. These productions include an autumn weekend of Storybook Hour and the Nutcracker Suite that is part of the Christmas on Salem Street weekend of holiday celebrations.
Outreach Programs
Infinity Ballet strives to bring its programming to a diverse population of children and families by working with local businesses, responsible citizens and other non profit groups to offer their dance opportunities. We also work with other nonprofit children's programs, like the Boys and Girls Club of Raleigh, to extend the training our students receive within the conservatory to children who would not normally have a chance to participate in dance. For more information on classes and performing opportunities contact Heather at 919-303-1105 or by email at ballettheatre@infinityballet.com.